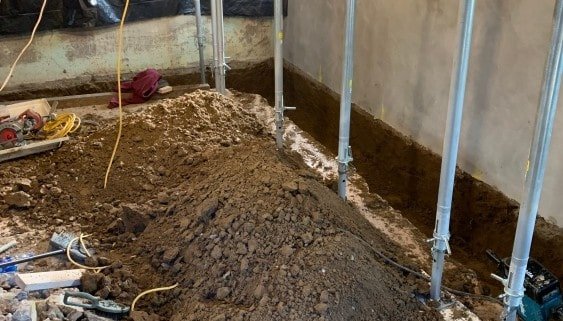 Jam Concept Remodel
The Importance of Seismic Retrofitting
There is increasing scientific evidence which suggests that the Pacific Northwest region could be the epicenter of the next big earthquake at any point in the near future. It's why seismic retrofitting is something every property owner should consider for their home. These retrofits help to protect the structure from future seismic events and make it resilient enough to withstand the effects of earthquakes.
We at J.A.M Concept Remodeling LLC serve the Portland Metro Area, Vancouver, as well as all surrounding cities. We have the experience, expertise and resources needed to handle all manner of seismic retrofitting jobs to industry standards. Here is some useful information about this specialized construction technique and why it's important.
What Is Seismic Retrofitting?
Seismic retrofitting is required for homes that are vulnerable to failures and damage by seismic forces. Over the past three decades, numerous moderate to severe earthquakes have occurred around the world annually and the Pacific Northwest is no exception.
Getting seismic retrofitting done for your home makes it resistant to seismic activity caused by earthquakes. This technique is used to prevent displacement from the concrete foundation of the home structure. It improves the stability and safety levels of the structure.
What Is Retrofitting In Construction?
Construction techniques are greatly advanced now and the effects of earthquakes on different structures are better understood today than 20 or 30 years ago. At that time, building codes were a little less stringent compared to modern-day standards. Therefore, it's a good idea to get your home inspected if it's been built a few decades ago.
Retrofitting of these structures may reduce the overall damage caused by earthquakes. While no structural modification technique will completely eliminate the risk of seismic waves, there are many techniques that can significantly improve the resilience and resistance levels of your home, to earthquakes. In residential structures, the seismic retrofitting process involves:
Strengthening weak connections that exist in roof to wall connections
Shearing walls
Shearing the roof
Installing continuity ties
Installation of absorbers and baffles
Girders and trusses for additional support
Supplementary dampers help minimize the resonant effects, and increase the energy
dissipation. They reduce displacement of the structures.
Base isolators are installed to decouple the structure from unstable ground, and this helps to achieve seismic vibration control.
Why Is Seismic Retrofitting Important?
There are many benefits to seismic retrofitting such as:
Helps prevent damage to the structure and injury to the occupants.
The process helps improve a residence's ability to keep residents safe when there is an earthquake.
Retrofitting also helps make homes habitable after any major earthquake.
Significantly reduces repair costs after any seismic event.
When you get seismic retrofitting done in your home, it reduces earthquake insurance premiums, that have seen a considerable increase in recent years.
Aside from this, most insurance companies have also reduced their insurance benefits, making it riskier than ever not to get your home retrofitted.
Get ready before the earthquake hits you and destroys the your most precious assets- your home and family. For more information about our seismic retrofitting services, feel free to call J.A.M Concept Remodeling LLC at 503-490-5541. You can also drop us a line through this Contact Us form.
https://jamconceptremodel.com/a/2019/05/retrofitting-contractor-lake-oswego-jam-concept-remodeling.jpg
750
563
jamconceptremodel
https://jamconceptremodel.com/a/2019/12/jam-concept-remodeling-logo-1.png
jamconceptremodel
2019-10-16 08:40:39
2019-12-08 09:20:42
The Importance of Seismic Retrofitting